The post EXCLUSIVE: Longtime Clinton Donor ACCUSED of 'Decades' of Sexual Harassment Against Young Women appeared first on I Love My Freedom.
Harvey Weinstein, the multiple Oscar-winning producer and Clinton friend / donor, has settled no fewer than eight sexual harassment complaints, between 1990 and 2015.
The left-wing media has been on a crusade to paint President Trump as a sexist (While is bulls**t); But will they hold their own accountable? Of course not!
Mainstream media is keeping this story on the hush. SHARE THIS ARTICLE and shine some light on their deceit!
In a deeply cynical and somewhat pitiful bid to retain the affections of the Hollywood crowd in the wake of these horrific allegations, Weinstein announced he would use this time to attack the NRA and President Donald Trump:
"I am going to need a place to channel that anger, so I've decided that I'm going to give the NRA my full attention. I hope Wayne LaPierre will enjoy his retirement party. I'm going to do it at the same place I had my Bar Mitzvah. I'm making a movie about our President, perhaps we can make it a joint retirement party."
Lisa Bloom, a high-powered attorney usually standing with accusers, is representing Weinstein in this matter and told the Times that her client "denies many of the accusations as patently false."
That, however, is not a denial of all the claims.
Weinstein added, "I appreciate the way I've behaved with colleagues in the past has caused a lot of pain, and I sincerely apologize for it. Though I'm trying to do better, I know I have a long way to go."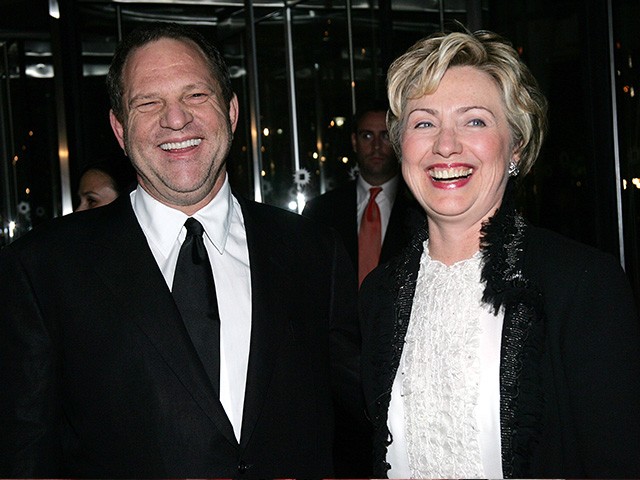 Above and beyond the settlements are other accusations, including one from veteran Hollywood actress Ashley Judd. She claims that two decades ago, when she was still a movie star, and on the pretense of a breakfast meeting, Weinstein, who was then at the height of his fame, invited her to his hotel room "where he appeared in a bathrobe and asked if he could give her a massage or she could watch him shower[.]"
Things only went downhill from there, Judd alleged:
"Mr. Weinstein soon issued invitation after invitation, she said. Could he give her a massage? When she refused, he suggested a shoulder rub. She rejected that too, she recalled. He steered her toward a closet, asking her to help pick out his clothing for the day, and then toward the bathroom. Would she watch him take a shower? she remembered him saying.
"I said no, a lot of ways, a lot of times, and he always came back at me with some new ask," Ms. Judd said. 'It was all this bargaining, this coercive bargaining.'"
According to one accuser, Weinstein went beyond indecent proposals. Italian model Ambra Battilana claims Weinstein "grabbed her breasts after asking if they were real and put his hands up her skirt[.]" The police got involved but no charges were filed. According to the Times, Weinstein later settled with Battilana.
One of the eight settlements reportedly includes actress Rose McGowan. For three years, between 2006 and 2009, McGowan was dating and later engaged to Robert Rodriguez, a director who regularly works with Weinstein, including 2015's flop Sin City: A Dame to Kill For.
Does the left's hypocrisy have ANY boundaries?
The post EXCLUSIVE: Longtime Clinton Donor ACCUSED of 'Decades' of Sexual Harassment Against Young Women appeared first on I Love My Freedom.
Source: ilovemyfreedom.org